Package 2*
---
Site design & creation. We will design a layout and develop a website for your approval based on the materials you provide. You probably have all the information in your existing brochures and promotional materials.

Domain name registration (.com, .net, .org, .edu). To allow easier access to your web site, we will register a domain name for your company that is, www.yourcompany.com, your Internet address.

Registration in the major international & local search engines. To get maximum exposure, we will register your web site and provide a two-way link between our site & your site to double the number of search entries for your web site.

An entire year's hosting. We will have your approved website published on the Internet for one year included in the package price.

Automated response form. Potential customers and visitors wishing to send their feedback will have no problem. Their responses are sent direct to your e-mail.

Unlimited updates! Send us new materials as often as you want and we will upload them to your website within 24 hours of receipt of the updates.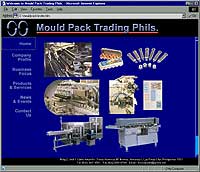 We will also:

· Periodically test and maintain all internal and external site links.
· Address all web site comments submitted to the contractor's webmaster
· Ensure the site provides with optimum response time
· Create & distribute releases to the news media about client's site
· Provide an online statistics report showing the number of times client's site has been accessed
· Provide an online report on search engine placements in the top 10 International & local search engines

Package Price: PHP 30,000.00 (US$570.00)
Email us now!
*All text and photos are to be provided by the site owner.